Softener and Specialty Salt
Vern Dale carries an extensive variety of salts for specialty needs. Premium-purity (up to 99% pure) softening salt is available in cubes, blocks, pellets or crystals. Deicing salts, including a pet-friendly alternative, melt ice fast … even in low temperatures and without leaving residue.
Pro's Pick Dura-Cube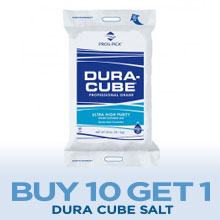 Uniquely compacted shape for extra hardness
99.8% pure salt
Can be used in any water conditioning unit
Helps prevent mushing, bridging and channeling
Designed to keep softeners clean and trouble-free
Pro's Pick Red Out Dura-Cube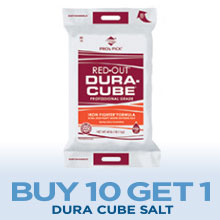 Formulated for use where iron content in water is high.

Unique, compact shape for extra hardness.
Minimum 99.8% pure salt.
FDA approved additive, prevents rust stains on laundry, fixtures, sinks, & tubs. Non-toxic to bacteria in septic tanks.
Reduces rust build up and keeps water units running longer.
Minimizes mushing and bridging
Diamond Crystal Bright & Soft Pellets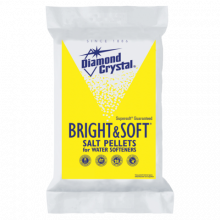 Typical of 99.8% pure salt
High purity for use in all water softeners
Diamond Crystal Iron Fighter Pellets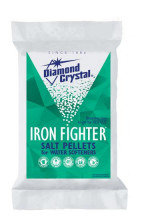 Formulated for use where iron content in water is high

Pure salt, typically 99.6% sodium chloride
Highly effective, FDA approved rust-removing additive, considered non-toxic to bacteria in septic tanks
Helps prevent rust stains on laundry, fixtures, sinks, tubs and bathroom bowls
Diamond Crystal Salt Block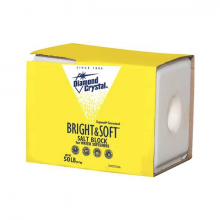 Typically 99.8% pure salt
Can be used in most systems
Diamond Crystal Splash Ready Pool Salt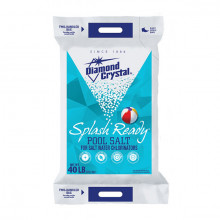 Diamond Crystal® Splash Ready™ dissolves quickly and is recommended by manufacturers of salt water chlorinators for pools.
Less salt in your pool than found in a human teardrop, Splash Ready has a 99% salt purity level.
Naturally free of additives, it's a safe alternative to chemical chlorine and provides the same level of clean.
Diamond Crystal Winter Melt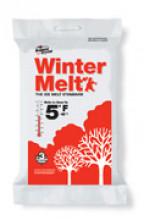 Unique sizing mixture of large and small crystals of natural sodium chloride.
The small crystals melt on contact and large crystals provide longevity and instant traction.
Works best at temperatures of 5 degrees Fahrenheit and above.
Leaves no oily residue.
Available in 25 and 50 lb. bags.
Peladow Calcium Chloride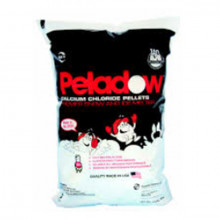 Give off heat as they dissolve, melting ice faster and at lower temperatures, as low as -25 degrees Fahrenheit.
Melts more so you can use less and leaves no powdery residue.
Safe on concrete and vegetation when used correctly.
Available in 50 lb. bags in pellets.
Diamond Crystal Jiffy Melt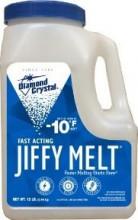 Available in 40 lb. bags and 12 lb. jugs.
Jiffy Melt is a specially formulated blend of magnesium chloride and sodium chloride which allows for fast action and lower application rates.
This blend is a cost effective choice to premium blends and more expensive substitutes and melts down to -5 degrees.
GreenMelt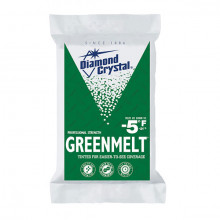 A green-tinted, high performance ice melter containing a blend of sodium, calcium and magnesium chlorides for faster, colder temperature melting than regular rock salt.
GreenMelt® ice melter is green-tinted for easy-to-see coverage on ice and packed snow.
Melts down to -5 degrees Fahrenheit.
Pet Friendly Ice Melter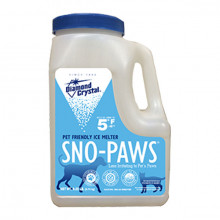 Diamond Crystal® Sno-Paws® pet-friendly ice melter is specially formulated to keep people and pets safer.
Its veterinarian preferred formula contains organic performance boosting chips to provide more melting at colder temperatures than urea alone.
Sno-Paws® melts ice at the same low temperature as salt while having none of the harsh chlorides that can irritate pets paws.
Its green tint allows you to easily see the granules to make applying even easier.